Funfetti Cake Batter Edible Cookie Dough Monster Tub (450g)
Next
SWEET, MOIST & FULL OF COLOUR
A vanilla cake batter dough with white chocolate chunks & rainbow sugar crystals
Sprinkles make everything more fun and better right? Taking inspiration from the ultimate American childhood birthday cake flavour, this decadent and rich Madagascan vanilla dough is layered with handfuls of luxury Belgian white chocolate chunks. Just to make it ultra special, this party favourite is loaded full of rainbow crystal sugar sprinkles!
DOUGH INFO
Luxury ingredients provides maximum indulgence
Resealable & recyclable tub for freshness & convenience
Rainbow sugar crystals for crunch and colour
Combination of a sugar bite & chocolate for ultimate birthday experience
Handcrafted fresh to order just for you!
SIZE
450g (6 servings) - Would you like to eat a giant tub of cookie dough? I mean it's only a dream come true. What if you could have a huge serving of absolutely mouth-watering super addictive crazy indulgent I-dream-about-this-every-night cookie dough? Um, yes please! Designed for sharing - whether you do or not is up to you.... 
SHELF LIFE
Refrigerate for up to 3 weeks or freeze for up to 12 months.
SERVING SUGGESTION
Top stacked pancakes with a scoop & drizzle with chocolate sauce for a birthday treat.
DELIVERY
PLEASE NOTE: DUE TO EXTREME DEMAND ORDERS CAN CURRENTLY TAKE UP TO 7-10 WORKING DAYS TO BE PRODUCED.
We can deliver to virtually anywhere in mainland UK. We post Monday - Thursday via tracked courier.
Our cookie dough is perishable so we send it with chilled gel packs for overnight delivery. All of our cookie dough is prepared to order. You can request a delivery date at checkout. We will make every effort to have it arrive on your desired date.
Full delivery info can be found
HERE
Delivery Charges
Mainland UK: £4.95
ROI: £13.95
Orders over £35: FREE (Mainland UK only)
RETURNS
The products on our site are perishable. This means that the right to cancel an order does not apply. However, we understand that sometimes you may need to cancel an order and although our products are specifically prepared for your order, if you contact us within 3 hours of placing the order, it may be possible to cancel.
We guarantee you will 100% love your order! In the unlikely event you return a product to us because it is damaged or incorrect, we will replace or provide a full refund for the defective product together with any applicable delivery charges to return the product to us.
For any frequently asked questions, please visit our FAQ
HERE
Customer Reviews
24/12/2019
Jack W.
United Kingdom
Feedback from Jack
Hello Anja & Olly, I recently purchased some Gookie Dough from you a week or so ago and would like to leave you some feedback. I ordered the Funfetti Cake Batter Dough and I will say that it was my first time trying cookie (Gookie) dough and I think your company will be the only one I will order from as your Gookie Dough is absolutely amazing! Very tasty and will defo buy more from you in the future! I will mention your company to my friends and family and see what they think about it too. Im sure they will enjoy it as much as I have (I havnt eaten it all yet haha). Keep up the good work and will be looking forward to trying your other flavours.
14/11/2019
Leah W.
United Kingdom
Fabulous
The funfetti cake batter cookie dough was everything I wanted and more, it arrived swiftly and well within the time i was told. The product tasted amazing and the 450g tub was eaten pretty quickly, my 4 year old son also very much enjoyed it with me! We particularly enjoyed it with some ice cream. I fully intend on trying the other 3 flavours and will be ordering soon. Thank you Gookie Dough!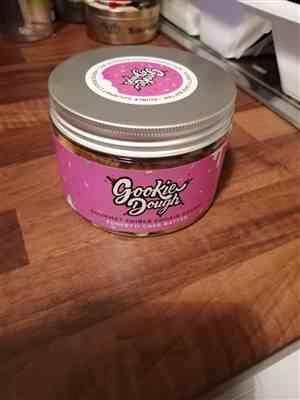 04/07/2019
Rebecca J.
United Kingdom
Gookie dough - Funfetti Cake Batter
I have repurchased gookie dough so many times as I love it!!!! I have tried all the flavours and they are all equally amazing and can be eaten so many different ways. My favourite way is to eat it with a spoon straight from the tub! You're always left wanting more!!! Can't wait to see if they bring out any new flavours in the future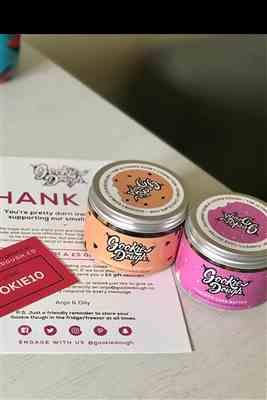 03/07/2019
Lauren B.
United Kingdom
19/06/2019
Michelle R.
United Kingdom
Best cookie dough I've tried :D
I loved the cake batter cookie dough, definitely the nicest cookie dough product I've had to date. Delivery was quick and straightforward, would highly recommend :)