Struggling to make up your mind? Take the stress out of choosing from our delicious flavours. Customise your selection with a multi-pack and try more than one flavour!
Choose any 2 gooey 150g mini tubs...
SIZE
150g (2 servings) - If you struggle with that thing called portion control when it comes to cookie dough (and let's be real — who doesn't?) these cute mini tubs will satisfy any craving without going overboard.
SHELF LIFE
Refrigerate for up to 3 weeks or freeze for up to 12 months.
DELIVERY
PLEASE NOTE: DUE TO EXTREME DEMAND ORDERS CAN CURRENTLY TAKE UP TO 7-10 WORKING DAYS TO BE PRODUCED.
We can deliver to virtually anywhere in mainland UK. We post Monday - Thursday via tracked courier.
Our cookie dough is perishable so we send it with chilled gel packs for overnight delivery. All of our cookie dough is prepared to order. You can request a delivery date at checkout. We will make every effort to have it arrive on your desired date.
Full delivery info can be found
HERE
Delivery Charges
Mainland UK: £4.95
ROI: £13.95
Orders over £35: FREE (Mainland UK only)
RETURNS
The products on our site are perishable. This means that the right to cancel an order does not apply. However, we understand that sometimes you may need to cancel an order and although our products are specifically prepared for your order, if you contact us within 3 hours of placing the order, it may be possible to cancel.
We guarantee you will 100% love your order! In the unlikely event you return a product to us because it is damaged or incorrect, we will replace or provide a full refund for the defective product together with any applicable delivery charges to return the product to us.
For any frequently asked questions, please visit our FAQ
HERE
Customer Reviews
18/02/2020
James P.
United Kingdom
Disney and Gookie Dough on Draft
It is simply exquisite. So, to set the scene, it's valentines day, the central heating is on, candles are lit and the other halves favorite film selected. I purchased the Triple Chocolate and Red Velvet twin pack as a cheeky gift to gnaw on whilst we settled down for the night. Popped the lids off, shoveled in with a tea spoon, found heaven. We managed to finished them before the Disney castle intro was shown. Fell asleep shortly after. Would definitely recommend.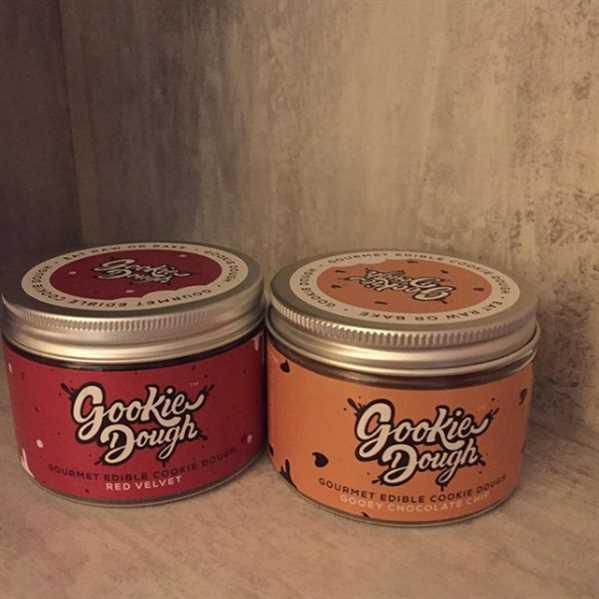 06/02/2020
Mehmet H.
United Kingdom
Amazing dough!!
This recipe is simply outstanding I was sceptical ordering this thinking it's not going to be nice wow was I wrong! I brought the 2 x 150g mini tubs choc chip & funfetti cake batter was meant to make this last over a week no chance simply delicious, I have now ordered the 4x 450g monster tubs, as people have said only thing missing is more flavours can't wait to see what comes next!! keep up the good work and thanks for creating something unique you definitely have the market for raw edible dough in the U.K.!
14/10/2019
abbie p.
United Kingdom
14/10/2019
Michelle C.
United Kingdom
12/09/2019
Natasha B.
United Kingdom
I was counting down the minutes at work because I wanted to come home and eat it!
The red velvet is amazing!!! I loved both flavours that I tried, but I was counting down the minutes at work until I could get home and devour the red velvet pot. Even the smaller pots are enough for a couple of helpings and it really is a treat that cannot be equalled by anything available in the shops!