Creamy Hazelnut Crunch Cookie Dough Monster Tub (500g)
Eat Raw or Bake · Handmade & Egg-Free · Chilled & Fresh

REMAINING FREE TUBS WITH £15+ ORDERS:
• Over 246,300 tubs sold and counting...
• Join 56,900+ customers who love Gookie Dough!
• Each 500g Tub makes 17 cookies / 6.7 raw servings
💪 Want to Double-Up and save some dough (£)?
Please note: This is a pre-sale pack and we will start shipping these flavours from May 3rd onwards.
BETTER THAN BUENO
A milky hazelnut cookie dough with milk chocolate chips & crunchy wafer pieces
Every time I ask anyone what flavour they would like me to create next, I hear the answer - Kinder Bueno! Well, I'm not about the life of simply chucking a chocolate bar in with our cookie dough so I have created my own version (I unapologetically will tell you it's better). This is a silky, creamy hazelnut cookie dough swirled with Belgian milk chocolate chips & super crunchy wafer pieces to replicate what seems to be the world's favourite nutty chocolate bar! I'm not sure this will be around for long as I may eat it all myself...
The big question is… will you be able to avoid devouring the entire tub?
DOUGH INFO
Luxury ingredients provide maximum indulgence
Resealable & recyclable tub for freshness & convenience
Microwave safe and freezer safe packaging
Handcrafted in the UK!

Vegetarian friendly
Makes 17 cookies
SIZE
500g (6.7 servings) - Would you like to eat a giant tub of cookie dough? I mean it's only a dream come true. What if you could have a huge serving of absolutely mouth-watering super addictive crazy indulgent I-dream-about-this-every-night cookie dough? Um, yes please! Designed for sharing - whether you do or not is up to you....
SHELF LIFE
Refrigerate for up to 3 weeks or freeze for up to 6 months.
SERVING SUGGESTION
Bring cookie dough to room temperature & swirl with vanilla ice cream. 
INGREDIENTS & NUTRITION
DELIVERY
PLEASE NOTE: DUE TO DEMAND ORDERS CAN CURRENTLY TAKE UP TO 3-5 WORKING DAYS TO BE DISPATCHED.
We can deliver to virtually anywhere in mainland UK. We post Monday - Thursday via tracked courier.
We deliver with chilled gel packs for overnight delivery to ensure ultimate freshness. You can request a delivery date at checkout. We will make every effort to have it arrive on your desired date.
Full delivery info can be found
HERE
Delivery Charges
Mainland UK: £4.95
ROI: £13.95
Orders over £35: FREE (Mainland UK only)
RETURNS
We guarantee you will 100% love your order!
In the unlikely event you return a product to us because it is damaged or incorrect, we will replace the defective product together with any applicable delivery charges to return the product to us. For any frequently asked questions, please visit our FAQ
HERE
EAT IT RAW
Grab your cookie dough & a spoon and dive right in!

For ULTIMATE INDULGENCE allow your dough to come to room temperature (20-30 mins).

MICROWAVE IT
Remove dough from the tub & place into microwave safe bowl.

Place the bowl in your microwave and set the timer to 20 seconds at full power.

Remove the bowl from the microwave and devour this gooey dough!

If you would like it super gooey continue to blast it in the microwave in 20 second intervals.

BAKE IT
Allow the tub to come to room temperature for 20 minutes to allow it to become easier to handle

Remove the dough from the tub and split into 30g balls (you can make them smaller or larger depending on how big you want your cookies)

Line a baking tray with greaseproof paper and heat your oven to 170c (fan assisted) or 190c

Place the balls of dough on to the tray and flatten to your desired shape & thickness (the dough does not rise or spread so ensure they are exactly how you want them to come out of the oven)

Bake for 8-10 minutes* (all ovens vary so they may need slightly less time)

Remove from the oven and transfer to a wire rack and allow them to cool (they will harden as they cool)

Consume whilst still warm for crispy cookies with a gooey centre, YUM!

*Ensure not to over bake them as this could cause them to go hard
Customer Reviews
27/06/2022
Jane S.

United Kingdom
1st order
Unique and lovely! My daughters favourite!!!!!
22/06/2022
D A.

United Kingdom
creamy hazelnut crunch
very good as cookies and as raw dough
19/06/2022
Purplecookie

United Kingdom
Nice but...
I normally buy from another raw cookie dough company, but regularly see ads for Gookie dough so I thought I'd give it a go! The dough is nice, not the granular, cookie texture I'd expected. Nice flavours, not overly cookie dough tasting, more flavour taste. Main disappointment; the two tubs I've opened so far are very oily. Not what I expected, and was a little off putting, but can't taste it fortunately. The main issue I have is that the small tubs are advertised as 150ml. They are not. The print on the bottom of the containers states 120ml (see photo). I'm sure that breaks trade description laws! In short the product is ok, but due to the mis-selling product size and the oily texture, I'm not sure I'd buy again. Disappointing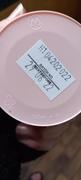 Hey, Thanks for leaving an honest review. I just wanted to respond in regards to your accusation about us breaking trade description laws. We advertise the mini tubs as being 150g not 150ml. If you weigh the tubs they will weigh between 146g and 154g as we use the 'e' mark which means these tubs on average will have 150g. The embossed 120ml is from the packaging manufacturer as these tubs are designed to hold 120ml of liquid. However, we use them to contain 150g of solid product. So, to clarify we have not miss-sold the product size. I'm sorry you found the product oily. This is due to natural separation when the product becomes warmer and shows that we are not using any nasties. When warming the product up I would advise that you give it a stir/mix like you would with a natural peanut butter. I really appreciate you giving our product a try.
18/06/2022
Alexandra J.

United Kingdom
Even better than I thought!
Delivered quickly, communication fantastic! Sometimes it can be hard to get hold of amazing quality vegan treats but this did the job!