Red Velvet Edible Cookie Dough Monster Tub (450g)
Eat Raw or Bake · Handmade & Egg-Free · Chilled & Fresh

• Over 246,300 tubs sold and counting...
• Join 56,900+ customers who love Gookie Dough!
• Each 450g Tub makes 15 cookies / 6 raw servings
💪 Want to Double-Up and save some dough (£)?
SMOOTH VELVET TEXTURE
A red cocoa cookie dough swirled with white chocolate vanilla fudge frosting
Have you ever tried the world's most famous & elegant cake flavour? Intertwining super moist, luscious red Belgian cocoa dough, and heavenly, creamy, melt in your mouth Madagascan vanilla frosting, this dough doesn't disappoint when it comes to providing that signature light chocolaty flavour. It's most certainly red velvet by name and red velvet by nature!
DOUGH INFO
Luxury ingredients provides maximum indulgence
Resealable & recyclable tub for freshness & convenience
Super creamy frosting chunks contrast against the dough
Global flavour phenomenon in cookie dough form
Handcrafted fresh to order just for you!
SIZE
450g (6 servings) - Would you like to eat a giant tub of cookie dough? I mean it's only a dream come true. What if you could have a huge serving of absolutely mouth-watering super addictive crazy indulgent I-dream-about-this-every-night cookie dough? Um, yes please! Designed for sharing - whether you do or not is up to you....
SHELF LIFE
Refrigerate for up to 3 weeks or freeze for up to 12 months.
SERVING SUGGESTION
Stuff between 2 giant baked cookies for the ultimate cookie dough sandwich.
DELIVERY
PLEASE NOTE: DUE TO DEMAND ORDERS CAN CURRENTLY TAKE UP TO 3-5 WORKING DAYS TO BE PRODUCED.
We can deliver to virtually anywhere in mainland UK. We post Monday - Thursday via tracked courier.
Our cookie dough is perishable so we send it with chilled gel packs for overnight delivery. All of our cookie dough is prepared to order. You can request a delivery date at checkout. We will make every effort to have it arrive on your desired date.
Full delivery info can be found
HERE
Delivery Charges
Mainland UK: £4.95
ROI: £13.95
Orders over £35: FREE (Mainland UK only)
RETURNS
The products on our site are perishable. This means that the right to cancel an order does not apply. However, we understand that sometimes you may need to cancel an order and although our products are specifically prepared for your order, if you contact us within 3 hours of placing the order, it may be possible to cancel.
We guarantee you will 100% love your order! In the unlikely event you return a product to us because it is damaged or incorrect, we will replace or provide a full refund for the defective product together with any applicable delivery charges to return the product to us.
For any frequently asked questions, please visit our FAQ
HERE
Customer Reviews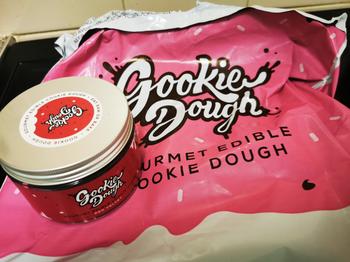 23/07/2020
Unbelievable!
I ordered the Red Velvet tub and wow, This is an amazing sweet treat, I have a massive sweet tooth and love cookie dough, I'd been tempted by this product for about 6 months and I'm so glad I finally got some! Amazing, Definitely getting more!
Dan

United Kingdom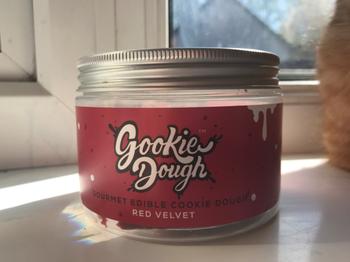 21/04/2020
Would recommend!!
This flavour was delicious! Made some nice chewy cookies out of it and still had enough left over to eat 'raw'
Kaley S.

United Kingdom
13/08/2021
amazing
tasted absolutely amazing would definitely recommend, was a great gift. had some issues but was sorted very quickly and professionally couldn't be happier
saskia O.

United Kingdom
12/08/2021
Amazing love it
It is so yummy so worth the buy it is amazing In all the forms you can have it
Isabelle W.

United Kingdom