Multi-Pack (Any 2 x 150g Mini Tubs)
Next
Struggling to make up your mind? Take the stress out of choosing from our delicious flavours. Customise your selection with a multi-pack and try more than one flavour!
Choose any 2 gooey 150g mini tubs...
SIZE
150g (2 servings) - If you struggle with that thing called portion control when it comes to cookie dough (and let's be real — who doesn't?) these cute mini tubs will satisfy any craving without going overboard.
SHELF LIFE
Refrigerate for up to 3 weeks or freeze for up to 12 months.
DELIVERY
PLEASE NOTE: DUE TO EXTREME DEMAND ORDERS CAN CURRENTLY TAKE UP TO 10-14 WORKING DAYS TO BE PRODUCED.
We can deliver to virtually anywhere in mainland UK. We post Monday - Thursday via tracked courier.
Our cookie dough is perishable so we send it with chilled gel packs for overnight delivery. All of our cookie dough is prepared to order. You can request a delivery date at checkout. We will make every effort to have it arrive on your desired date.
Full delivery info can be found
HERE
Delivery Charges
Mainland UK: £4.95
ROI: £13.95
Orders over £35: FREE (Mainland UK only)
RETURNS
The products on our site are perishable. This means that the right to cancel an order does not apply. However, we understand that sometimes you may need to cancel an order and although our products are specifically prepared for your order, if you contact us within 3 hours of placing the order, it may be possible to cancel.
We guarantee you will 100% love your order! In the unlikely event you return a product to us because it is damaged or incorrect, we will replace or provide a full refund for the defective product together with any applicable delivery charges to return the product to us.
For any frequently asked questions, please visit our FAQ
HERE
Customer Reviews
04/06/2020
Hannah L.
United Kingdom
Gookie Dough 2×150 Mini Tubs Review
Honeslty I absolutely loved it, it tastes amazing and the flavours are gorgeous I am also incredibly satisfied with the customer service that I received also wuth updates about where my order is as understandably the Gookie dough is taking longer to be made and shipped during this time. Will definitely be ordering again when I get paid. I can't wait !!!!
Lockdown Gift
I recently bought 2 Gookie Dough tubs for a friend as a cheer up gift. I don't think I've ever received so many thank yous and yum messages before. They were both delicious! As someone that thinks the tastiest part of baking is before it is baked - they were amazing! Just a note, that considering the CoVid situation - the purchasing experience was great and being kept up to date on delivery was excellent.
19/05/2020
Emily R.
United Kingdom
It's just too nice !!!
Have never bought cookie dough before but I knew I'd already like it before it arrived. The original plan was to make some cookies out of them but we tested each pot and they were finished within a day as we couldn't resist!! The nicest tasting treat, will be ordering again and hopefully this time we can resist and bake them into cookies.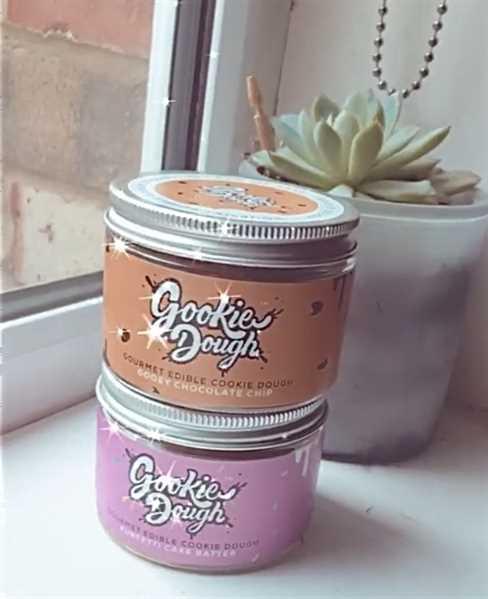 28/04/2020
Annmarie D.
United Kingdom
Buy more than you think you'll want
Loved this! I very sadly only bought 2 tubs :( I wish I had bought SO much more - and I certainly will do :) I first discovered cookie dough when I was living in New York a few years ago and have been wanting to get some again since moving back to London in 2017. I'm so happy I found Gookie Dough. It tastes authentic and is delicious and it's a lovely British independent business. Great customer service and genuinely delicious cookie dough. It's a great treat and I can't wait to buy more.
21/04/2020
Jak S.
United Kingdom