FREE Creamy Hazelnut Crunch Edible Cookie Dough 150g Tub
Customer Reviews
27/06/2022
Jane S.

United Kingdom
1st order
Unique and lovely! My daughters favourite!!!!!
22/06/2022
D A.

United Kingdom
creamy hazelnut crunch
very good as cookies and as raw dough
19/06/2022
Purplecookie

United Kingdom
Nice but...
I normally buy from another raw cookie dough company, but regularly see ads for Gookie dough so I thought I'd give it a go! The dough is nice, not the granular, cookie texture I'd expected. Nice flavours, not overly cookie dough tasting, more flavour taste. Main disappointment; the two tubs I've opened so far are very oily. Not what I expected, and was a little off putting, but can't taste it fortunately. The main issue I have is that the small tubs are advertised as 150ml. They are not. The print on the bottom of the containers states 120ml (see photo). I'm sure that breaks trade description laws! In short the product is ok, but due to the mis-selling product size and the oily texture, I'm not sure I'd buy again. Disappointing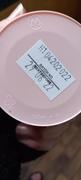 Hey, Thanks for leaving an honest review. I just wanted to respond in regards to your accusation about us breaking trade description laws. We advertise the mini tubs as being 150g not 150ml. If you weigh the tubs they will weigh between 146g and 154g as we use the 'e' mark which means these tubs on average will have 150g. The embossed 120ml is from the packaging manufacturer as these tubs are designed to hold 120ml of liquid. However, we use them to contain 150g of solid product. So, to clarify we have not miss-sold the product size. I'm sorry you found the product oily. This is due to natural separation when the product becomes warmer and shows that we are not using any nasties. When warming the product up I would advise that you give it a stir/mix like you would with a natural peanut butter. I really appreciate you giving our product a try.
18/06/2022
Alexandra J.

United Kingdom
Even better than I thought!
Delivered quickly, communication fantastic! Sometimes it can be hard to get hold of amazing quality vegan treats but this did the job!