Funfetti Cake Batter
DELIVERY
PLEASE NOTE: DUE TO DEMAND ORDERS CAN CURRENTLY TAKE UP TO 3-5 WORKING DAYS TO BE PRODUCED.
We can deliver to virtually anywhere in mainland UK. We post Monday - Thursday via tracked courier.
We deliver with chilled gel packs for overnight delivery to ensure ultimate freshness. You can request a delivery date at checkout. We will make every effort to have it arrive on your desired date.
Full delivery info can be found
HERE
Delivery Charges
Mainland UK: £4.95
ROI: £13.95
Orders over £35: FREE (Mainland UK only)
RETURNS
We guarantee you will 100% love your order!
In the unlikely event you return a product to us because it is damaged or incorrect, we will replace the defective product together with any applicable delivery charges to return the product to us. For any frequently asked questions, please visit our FAQ
HERE
EAT IT RAW
Grab your cookie dough & a spoon and dive right in!

For ULTIMATE INDULGENCE allow your dough to come to room temperature (20-30 mins).

MICROWAVE IT
Remove dough from the tub & place into microwave safe bowl.

Place the bowl in your microwave and set the timer to 20 seconds at full power.

Remove the bowl from the microwave and devour this gooey dough!

If you would like it super gooey continue to blast it in the microwave in 20 second intervals.

BAKE IT
Allow the tub to come to room temperature for 20 minutes to allow it to become easier to handle

Remove the dough from the tub and split into 30g balls (you can make them smaller or larger depending on how big you want your cookies)

Line a baking tray with greaseproof paper and heat your oven to 170c (fan assisted) or 190c

Place the balls of dough on to the tray and flatten to your desired shape & thickness (the dough does not rise or spread so ensure they are exactly how you want them to come out of the oven)

Bake for 8-10 minutes* (all ovens vary so they may need slightly less time)

Remove from the oven and transfer to a wire rack and allow them to cool (they will harden as they cool)

Consume whilst still warm for crispy cookies with a gooey centre, YUM!

*Ensure not to over bake them as this could cause them to go hard
Due to our rebranding, you may receive a mixture of new and old packaging as we are looking to be as sustainable as possible to avoid any waste. If you do then congratulations, you will be one of the very first to experience our new packaging & branding!
Customer Reviews
18/12/2020
LOVE it
I recently ordered one of every flavour (except for the 3 Funfetti's ) and honestly.. loved them! Unfortunately I didn't get to try the Red Velvet since I (so kindly) gave it to my younger sister along with one of the Funfetti's for her birthday so next order I'll be making sure to order an extra one just incase I didn't even get a chance to make any of the delicious recipes because it was just too tempting, lil sis said the exact same! We will both be back!
Jessica M.

United Kingdom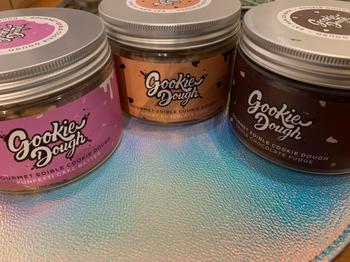 04/11/2020
Best treat ever!
My partner ordered me some Gookie Dough a few months ago and I absolutely loved it! So of course when that ran out I had to order some more. My favourite is definitely the Funfetti as I have such a sweet tooth, whereas the chocolate chip is a fan favourite with my family. Will definitely order some more to share with friends and family for Christmas!
Hannah S.

United Kingdom
25/10/2021
Love them
I have tried lots of brands of cookie dough and these are definitely my favourite. The flavours and the packaging.
Serena S.

United Kingdom
26/05/2021
Pure doughy perfection!
The most perfect treat to find waiting for you in the fridge after a days work. I will be ordering again as I miss the heavenly taste of these exquisite jars of happiness!
Emma F.

United Kingdom